Parameterized Compilation (Research Project)
Funding Organisation: The Austrian Science Funds, FWF
Project Number: FWF P26200
Project Team
Simone Bova (Postdoc, Project Coordinator)
Ronald de Haan (Doctoral Student)
Neha Lodha (Doctoral Student)
Stefan Szeider (Professor, Principal Investigator)
Topic
Knowledge compilation offers a compelling approach to coping with computationally hard problems. This line of research was initiated in the early 1990s, and since then has become a very active and progressing field.  Knowledge compilation proceeds in two phases: In the first phase the input data is compiled into a new representation, which is then used in a second phase to execute a number of individual tasks efficiently.  Ideally, one aims at a compilation that causes only a polynomial increase in space, and the classical theory of compilation offers theoretical tools to decide whether such a compilation is possible or not.  However, systematic research shows that most relevant problems are not compilable with a polynomial increase in space. Hence, the classical theory cannot provide reasonable guarantees for these problems.
The goal of this project is to overcome this limit of classical knowledge compilation by utilizing structural aspects of problem inputs (such as as tree-likeness, degree of cyclicity, or backdoor size). As the key to this goal we propose to study knowledge compilation within the framework of parameterized complexity, which has become an important and successful research direction in algorithms and complexity. Parameterized complexity provides powerful methods and tools for exploiting structural aspects of problems and is therefore ideally suited for this purpose. Using parameters we can exploit structural aspects of the input in order to support the compilation. Hence we aim at positive results in terms of upper bounds for compilation space and compilation time for problems that are not compilable in the classical sense.
Publications
2017
2016
2015
2014
Events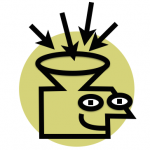 We organised the Symposium on New Frontiers in Knowledge Compilation, June 4-6, 2015, TU Wien, Vienna, Austria. The aim of this symposium was  to bring together researchers who work on knowledge compilation from various angles, including knowledge representation, constraints, theory of algorithms, complexity, machine learning, and databases, as well as researchers from related areas. Lectures and discussions will put all these different approaches into context and will stimulate a fruitful exchange of ideas between researchers from different fields.