Parameterized Analysis in Artificial Intelligence (Research Project)
Project Team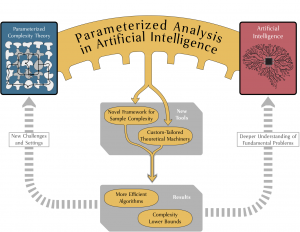 Picture credits: Soeren Nickel, 2020
Research Statement
Parameterized complexity theory is a well-established paradigm used for the fine-grained analysis of computational problems. Such analysis can provide efficient algorithms for these problems by exploiting subtle structural properties of relevant inputs, as well as powerful lower bounds that rule out efficient algorithms even for severely restricted instances. Parameterized complexity analysis has found great success across numerous fields of computer science, with notable examples including graph algorithms, computational geometry, database theory, computational logic and constraint satisfaction. In the highly prominent fields of artificial intelligence (AI) and machine learning (ML) – areas which have become an ubiquitous part of today's society – we see a distinct lack of foundational research targeting the fine-grained, parameterized complexity of fundamental problems. The goal of this project is to change this.
A Parameterized Toolbox for Problems in AI and ML
One main objective of this project is the development of new innovative tools and machinery that allows us to apply the parameterized complexity framework in this setting. Indeed, most of the existing tools developed in parameterized complexity theory are designed to work in the setting of discrete problems on graphs. On the other hand, many problems of interest in AI and ML do not admit straightforward graph representations and/or contain non-discrete components. The development of the required tools will then go hand in hand with obtaining new algorithms and matching lower bounds for the studied problems.
Publications
16 results
2022
[16]

An Efficient Algorithm for Counting Markov Equivalent DAGs



Artificial Intelligence, 2022.


Note: to appear



[15]

Sum-of-Products with Default Values: Algorithms and Complexity Results



Journal Artificial Intelligence Research, 2022.


Note: to appear



[14]

On Covering Segments with Unit Intervals



SIAM J. Discrete Math., 2022.


Note: to appear



[13]

Hedonic Diversity Games: A Complexity Picture with More than Two Colors



Proceeding of AAAI-22, the Thirty-Sixth AAAI Conference on Artificial Intelligence, 2022,

AAAI Press

.


Note: to appear



[12]

A Unifying Framework for Characterizing and Computing Width Measures



13th Innovations in Theoretical Computer Science Conference, ITCS 2022, 2022,

Schloss Dagstuhl - Leibniz-Zentrum für Informatik

.


Note: to appear



2021
[11]

Measuring what matters: A hybrid approach to dynamic programming with treewidth



J. Comput. Syst. Sci., volume 121, pages 57–75, 2021.

[10]

New Width Parameters for SAT and Sharp-SAT



Artificial Intelligence, volume 295, pages 103460, 2021.

[9]

On Structural Parameterizations of the Edge Disjoint Paths Problem



Algorithmica, volume 83, number 6, pages 1605–1637, 2021.

[8]

On Strict (Outer-)Confluent Graphs



J. Graph Algorithms Appl., 2021.


Note: to appear



[7]

The complexity landscape of deciompositional parameters for ILP: Programs with Few Global Variables and Constraints



Artificial Intelligence, 2021.


Note: to appear



[6]

The Complexity of Bayesian Network Learning: Revisiting the Superstructure



Proceedings of NeurIPS 2021, the Thirty-fifth Conference on Neural Information Processing Systems, 2021.


Note: to appear



[5]

The Complexity of Object Association in Multiple Object Tracking



Thirty-Fifth AAAI Conference on Artificial Intelligence, AAAI 2021, Virtual Event, February 2-9, 2021, pages 1388–1396, 2021,

AAAI Press

.

[4]

Crossing-Optimal Extension of Simple Drawings



48th International Colloquium on Automata, Languages, and Programming, ICALP 2021, July 12-16, 2021, Glasgow, Scotland (Virtual Conference) (Nikhil Bansal, Emanuela Merelli, James Worrell, eds.), volume 198 of LIPIcs, pages 72:1–72:17, 2021,

Schloss Dagstuhl - Leibniz-Zentrum für Informatik

.

[3]

The Parameterized Complexity of Clustering Incomplete Data



Proceeding of AAAI-21, the Thirty-Fifth AAAI Conference on Artificial Intelligence, pages 7296–7304, 2021,

AAAI Press

.

[2]

The Parameterized Complexity of Connected Fair Division



Proceedings of the Thirtieth International Joint Conference on Artificial Intelligence, IJCAI 2021, Virtual Event / Montreal, Canada, 19-27 August 2021 (Zhi-Hua Zhou, ed.), pages 139–145, 2021,

ijcai.org

.

[1]

Graphs with two moplexes are more than perfect



Proceedings of the 11th Latin and American Algorithms, Graphs and Optimization Symposium (LAGOS 2021), 2021,

Elsevier

.


Note: to appear