» doctoral student, MSc
Address:
Petrina Papazek
Technische Universität Wien
Institute of Logic and Computation
Favoritenstraße 9–11, E192-01
1040 Wien
Austria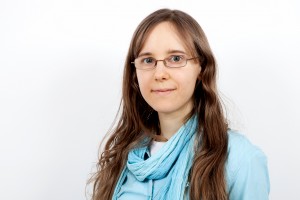 Work
I am a researcher in the field of transport optimization problems and currently working on a PhD. My main research interests are optimization algorithms for rebalancing public bicycle sharing systems (BBSS). In this context, I work on metaheuristic as well as on mixed integer linear programming approaches.
Talks and Presentations
I gave a talk on my recent findings at the EUROCAST-2013 and PPSN-2014 conference.
Publications
8 results
2014
[8]

PILOT, GRASP, and VNS Approaches for the Static Balancing of Bicycle Sharing Systems



Journal of Global Optimization, pages 1–33, 2014,

Springer

.


Note: to appear



[7]

Balancing Bicycle Sharing Systems: An Analysis of Path Relinking and Recombination within a GRASP Hybrid



Parallel Problem Solving from Nature – PPSN XIII (Thomas Bartz-Beielstein, Jürgen Branke, Bogdan Filipic, Jim Smith, eds.), volume 8672 of Lecture Notes in Computer Science, pages 792–801, 2014,

Springer

.

[6]

Balancing Bicycle Sharing Systems: An Approach for the Dynamic Case



Evolutionary Computation in Combinatorial Optimization (Christian Blum, Gabriela Ochoa, eds.), volume 8600 of LNCS, pages 73–84, 2014,

Springer

.

2013
[5]

Balancing Bicycle Sharing Systems: A Variable Neighborhood Search Approach



Evolutionary Computation in Combinatorial Optimisation – 13th European Conference, EvoCOP 2013 (M. Middendorf, C. Blum, eds.), volume 7832 of LNCS, pages 121-132, 2013,

Springer

.

[4]

Balancing Bicycle Sharing Systems: Improving a VNS by Efficiently Determining Optimal Loading Operations



Hybrid Metaheuristics, 8th Int.\ Workshop, HM 2013 (M. J. Blesa, others, eds.), volume 7919 of LNCS, pages 130–143, 2013,

Springer

.

[3]

A PILOT/VND/GRASP Hybrid for the Static Balancing of Public Bicycle Sharing Systems



Computer Aided Systems Theory – EUROCAST 2013 (Roberto Moreno-Díaz, Franz Pichler, Alexis Quesada-Arencibia, eds.), volume 8111 of LNCS, pages 372–379, 2013,

Springer

.

[2]

A PILOT/VND/GRASP Hybrid for Balancing Bicycle Sharing Systems



Extended Abstracts of the 14th International Conference on Computer Aided Systems Theory, pages 223–225, 2013.

[1]

PILOT, GRASP, and VNS Approaches for the Static Balancing of Bicycle Sharing Systems



2013,

Technical report TR 186–1–13–01, Institute of Computer Graphics and Algorithms, Vienna University of Technology

.


Note: submitted to the Journal of Global Optimization