Contact
Address:
Christian Kloimüllner
Technische Universität Wien
Institut für Computergraphik und Algorithmen 186/1
Favoritenstraße 9–11
1040 Wien
Austria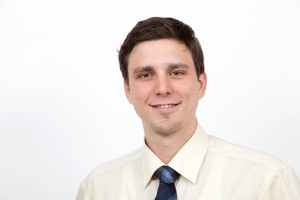 Work
I am currently working on Balancing Bicycle Sharing Systems and I am very interested in Transport Optimization as well as Vehicle Routing Problems.
Here you can find some prototypical implementation of a generic transport optimization app which I have developed for a course at the Vienna University of Technology. If someone is interested, you can also get the source code at bitbucket.
If you are also interested in my research topics, feel free to contact me about possible Bachelor's or Master's theses.
Talks and Presentations
I presented my work at Evo* 2014 in Granada, Spain and at Eurocast 2015 in Las Palmas de Gran Canaria, Spain. Furhtermore I gave a talk about Balancing Bicycle Sharing Systems at EULOG 2015 (Entscheidungsunterstützung in der Logistik) and VeRoLog 2015 in Vienna, Austria.
Reviewing Activities
Technical Reports
1 result
2015
[1]

Full-Load Route Planning for Balancing Bike Sharing Systems by Logic-Based Benders Decomposition and Branch-and-Check



2015,

Technical report AC-TR-15-004, Algorithms and Complexity Group, TU Wien

.

Publications
7 results
2016
[7]

Districting and Routing for Security Control



Hybrid Metaheuristics: 10th International Workshop, HM 2016 (Maria J. Blesa, Christian Blum, Angelo Cangelosi, Vicenzo Cutello, Alessandro Di Nuovo, Mario Pavone, El-Ghazali Talbi, eds.), volume 9668 of LNCS, pages 87–103, 2016,

Springer

.

2015
[6]

PILOT, GRASP, and VNS Approaches for the Static Balancing of Bicycle Sharing Systems



Journal of Global Optimization, volume 63, number 3, pages 597-629, 2015,

Springer

.

[5]

A Cluster-First Route-Second Approach for Balancing Bicycle Sharing Systems



Extended Abstracts of the Fifthteenth International Conference on Computer Aided Systems Theory (EUROCAST 2015) (Alexis Quesada-Arencibia, José Carlos Rodriguez, Roberto Moreno-Díaz jr., Roberto Moreno-Díaz, eds.), pages 125–126, 2015.

2014
[4]

Balancing Bicycle Sharing Systems: An Analysis of Path Relinking and Recombination within a GRASP Hybrid



Parallel Problem Solving from Nature – PPSN XIII (Thomas Bartz-Beielstein, Jürgen Branke, Bogdan Filipic, Jim Smith, eds.), volume 8672 of LNCS, pages 792–801, 2014,

Springer

.

[3]

Balancing Bicycle Sharing Systems: An Approach for the Dynamic Case



Evolutionary Computation in Combinatorial Optimization – EvoCOP 2014 (Christian Blum, Gabriela Ochoa, eds.), volume 8600 of LNCS, pages 73–84, 2014,

Springer

.

2012
[2]

Visualisation and Graphical Editing of Answer Sets: The Kara System



May 2012,

Master's thesis, Vienna University of Technology, Institute of Information Systems

.


Note: supervised by H. Tompits and J. Puehrer



2011
[1]

Kara: A System for Visualising and Visual Editing of Interpretations for Answer-Set Programs



19th International Conference on Applications of Declarative Programming and Knowledge Management (INAP 2011) and 25th Workshop on Logic Programming (WLP 2011), pages 152–164, 2011,

INFSYS Research Report

.